Belize Cruise Port | 8 Best Things to Do From Belize City
March 7, 2023 / updated November 10, 2023
Nothing beats joining a relaxing cruise through the mesmerizing Caribbean Sea. As you venture through the azure-blue waters, you may wonder what lies ahead at the Belize City Cruise Port.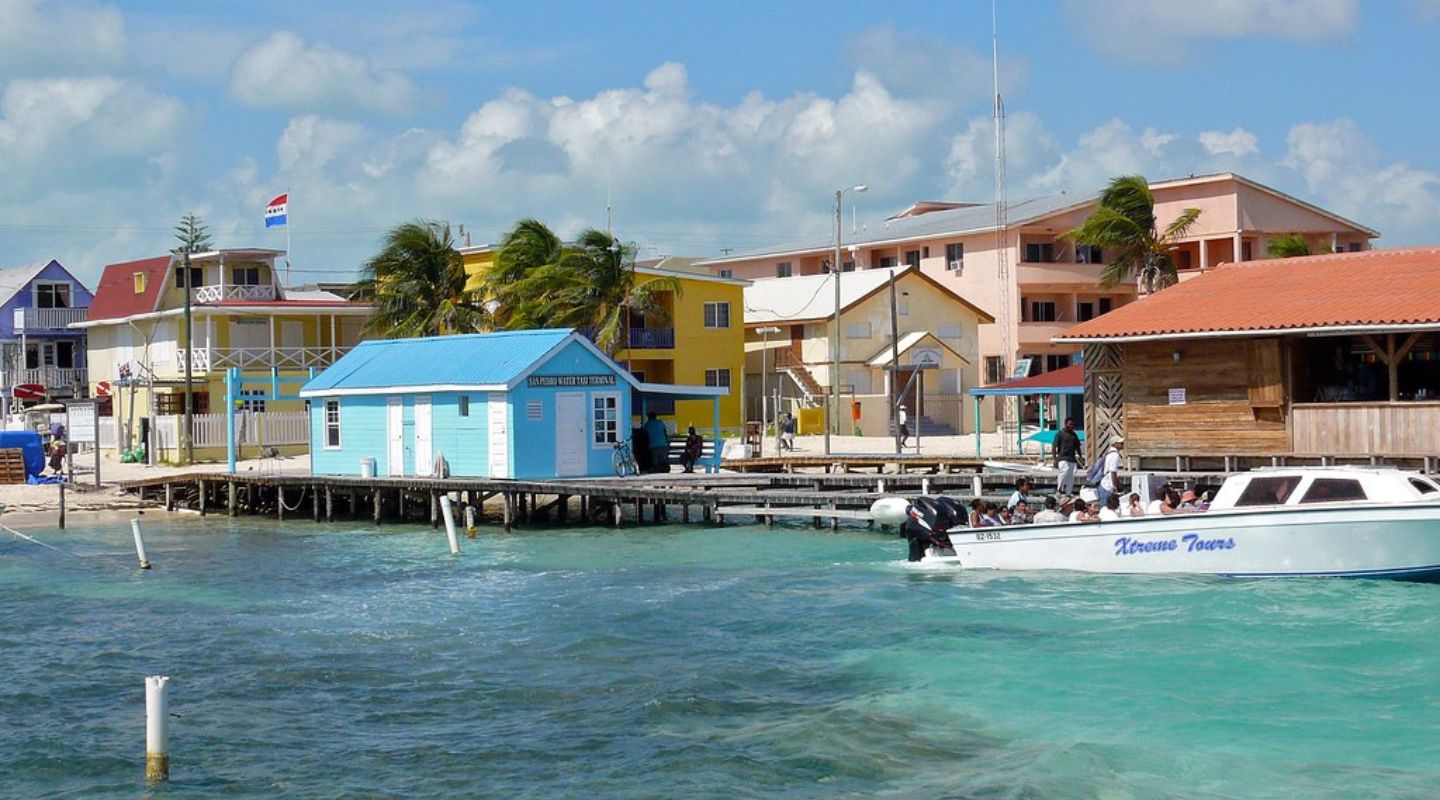 Due to the shallow waters near Belize City, your cruise ship will dock several miles from shore. You'll then hop onto a tender, and as you edge closer to the city, you begin to see the ocean turn from a deep blue to turquoise. Halouver Creek cuts through the city as the pastel houses paint the landscape in a vibrant coat of color.
But what is there to do in the cruise port of Belize? From Xunantunich the Mayan ruins on the border of Belize to Snorkeling Hol Chan off the cost of Ambergris Caye there are a ton of opportunities! On average, you'll have 10-hours to explore this wonderful country. This isn't enough time to see everything on the list, but you'll be able to pick what piques your interest and have an unforgettable time out of the Belize Cruise Port.
Top Activities Near Belize City Cruise Port: A Deep Dive
Here are 8 fantastic attractions for you to enjoy, according to our local Belize experts.
Discover Altun Ha Mayan Ruins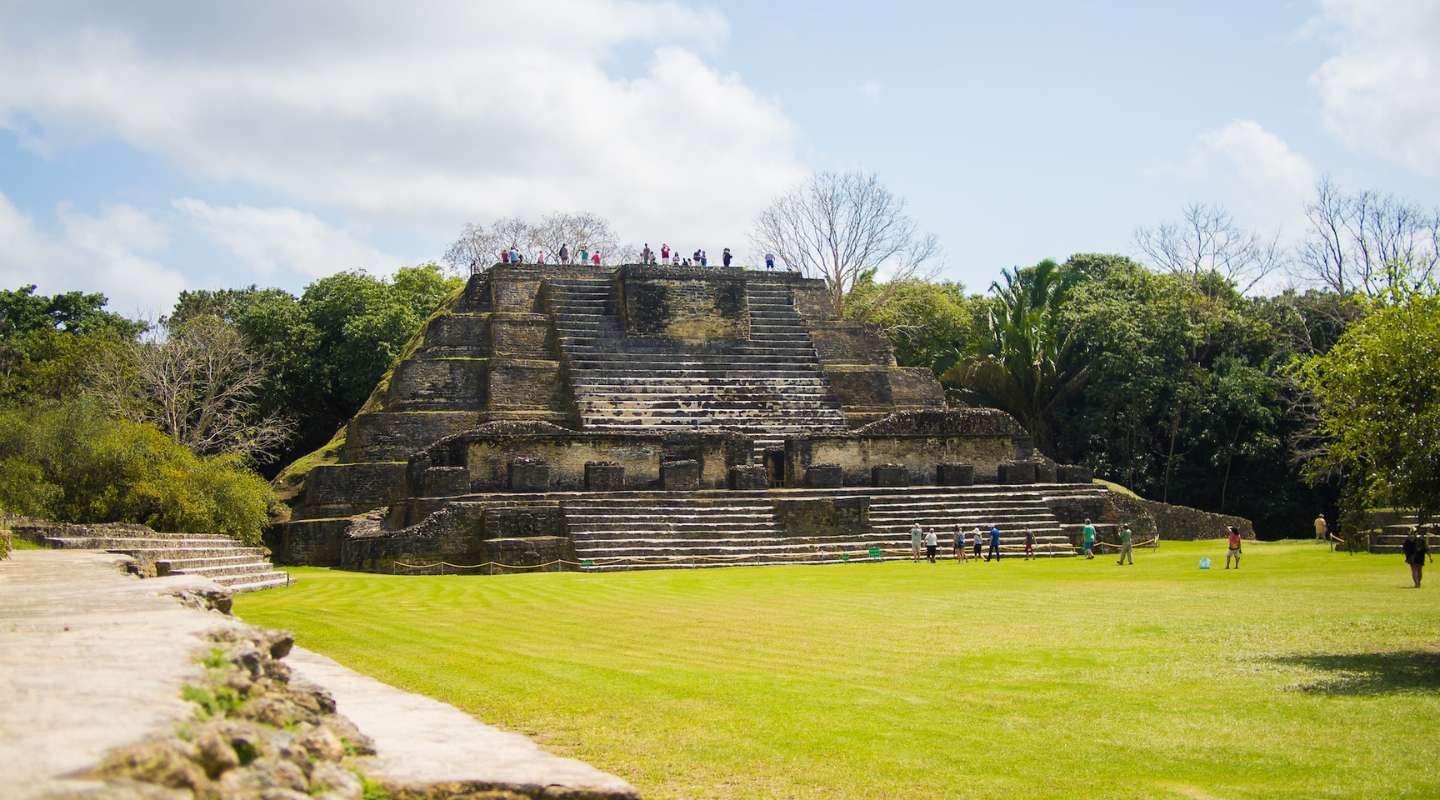 Belize is a country with plenty of history, and one of the best things you can do is visit the many Mayan ruins. Exploring the Mayan ruins is not too physically stressful and an activity that everyone can enjoy.
The closest and most affordable day trip is the Mayan city of Altun Ha, 31 miles from the port of Belize. This ancient city dates back to 200 B.C., and it is home to two significant landmarks. The 'Temple of the Green Tomb' and 'Temple of the Masonry Altars' — two stunning monuments that imbue Mayan architecture into modern history.
You can walk up, in, and around these iconic monuments across the 44-acre park. There is also wildlife to admire, with armadillos, white-tailed deer, and foxes roaming this ancient landscape.
Top Tip: Combine Altun Ha with a trip to the Zoo, Cave Tubing or searching for Manatees on the river! Make it private to have the trip all to yourselves as well as enjoy a great lunch and Belize City tour before getting back to your ship.
Go Cave Tubing
If you're searching for an adrenaline rush, cave tubing is a truly unique Belize excursion. Take an hour-long trip to the Nohoch Che'en Archaeological Reserve, where you'll trek through the jungle until you reach a series of limestone caves.
Check out this quick video overview which also includes the zip lining that you can do from the same location as the Cave Tubing.
At the caves, everyone gets given an inflated tube, and you float calmly down a stream through the caves being led along by your guide. This activity is great for the whole family, but children need to be at least six years old. Be prepared for about a 30 minute walk through the jungle and across a river to get to the entry point.
The reserve also prioritizes cruisers, so you will have more than enough time to meander through the caves. Just be sure that everyone is wearing clothes and shoes that can get wet before you depart.
Top Tip: Food and fun go hand in hand, so how about pairing the two with this cave tubing and lunch package?
Snorkel with Sharks and Stingrays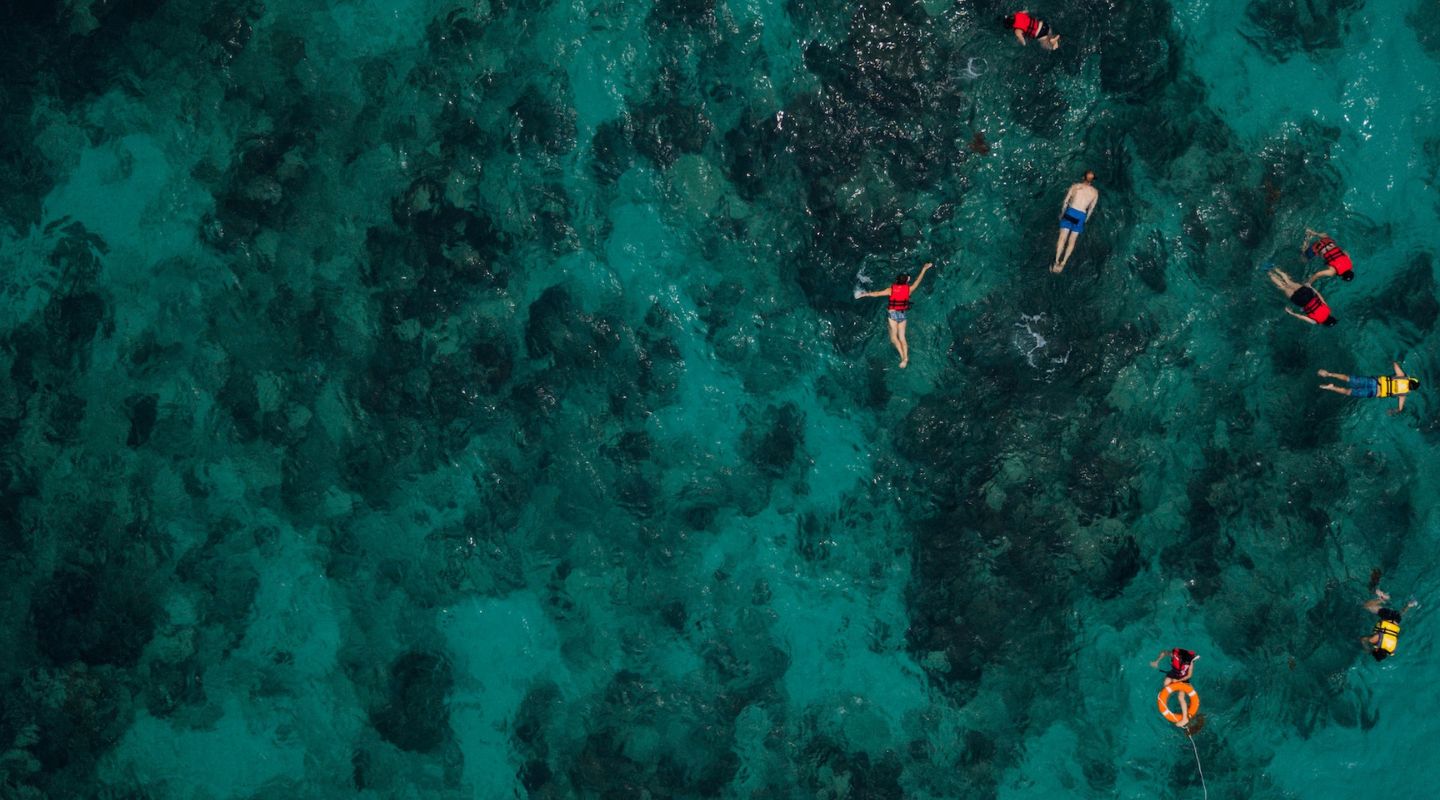 Many people are scared of sharks – and rightly so – but if there is ever an opportunity to overcome your fear, it's in Belize. There is around an hour-long boat ride (22 miles) that you'll embark on. But this is actually one of the great parts of the tour as you cruise over azure blue water to the Coral Garden Shark Ray Alley.
Within this shallow water – roughly three feet deep – you'll get a glimpse into the ocean's secrets. The Belize Barrier Reef is teeming with life, such as Elk Horn Corals and sergeant majors.
But you've come here to swim amongst intimidating but gentle nurse sharks and stingrays. Hop on in and swim safely swim with sharks! When I did this, a couple actually brushed up against me they were so close! Anyone over 5 years can join, and the guides ensure this is an extremely safe activity.
Top Tip: Book a Shark Ray Alley snorkeling excursion for the whole family.
Visit Crooked Tree Wildlife Sanctuary
If you're an avid bird watcher, then this activity is right up your alley. About 30 miles north of Belize City is the Crooked Tree Wildlife Sanctuary. This reserve is home to over 500 bird species, including the Jabiru Stalk – South America's largest bird.
But birds aren't all you'll see here. There are also iconic howler monkeys with their deafening screech, the notorious crocodile, and various species of Iguana. Across 16,400 acres, wetlands, lagoons, savanna, and forest make this the perfect destination for birdlife.
Top Tip: This Crooked Tree Wildlife Sanctuary tour will make the day stress-free.
Join a Historical Tour of Belize Port
We'd highly recommend taking time to see the history and culture of the city while visiting Belize. There are significant buildings and landmarks that are on display, which are best seen on a walking tour through the city streets.
You'll visit the Museum of Belize, which has countless Mayan artifacts and tells the story of its British Colonial rule. And then St. Johns Cathedral, the oldest Anglican Church in Central America.
The sites don't stop there, with the Belize Government House showing off the best Victorian architecture in the city. You'll learn about and see the iconic red and white Belize City Lighthouse. Exploring Old Belize is also great for the ultimate culinary experience and breathtaking ocean views.
Top Tip: Join this Belize City sightseeing tour to make the most of your time here.
See the Blue Hole From Above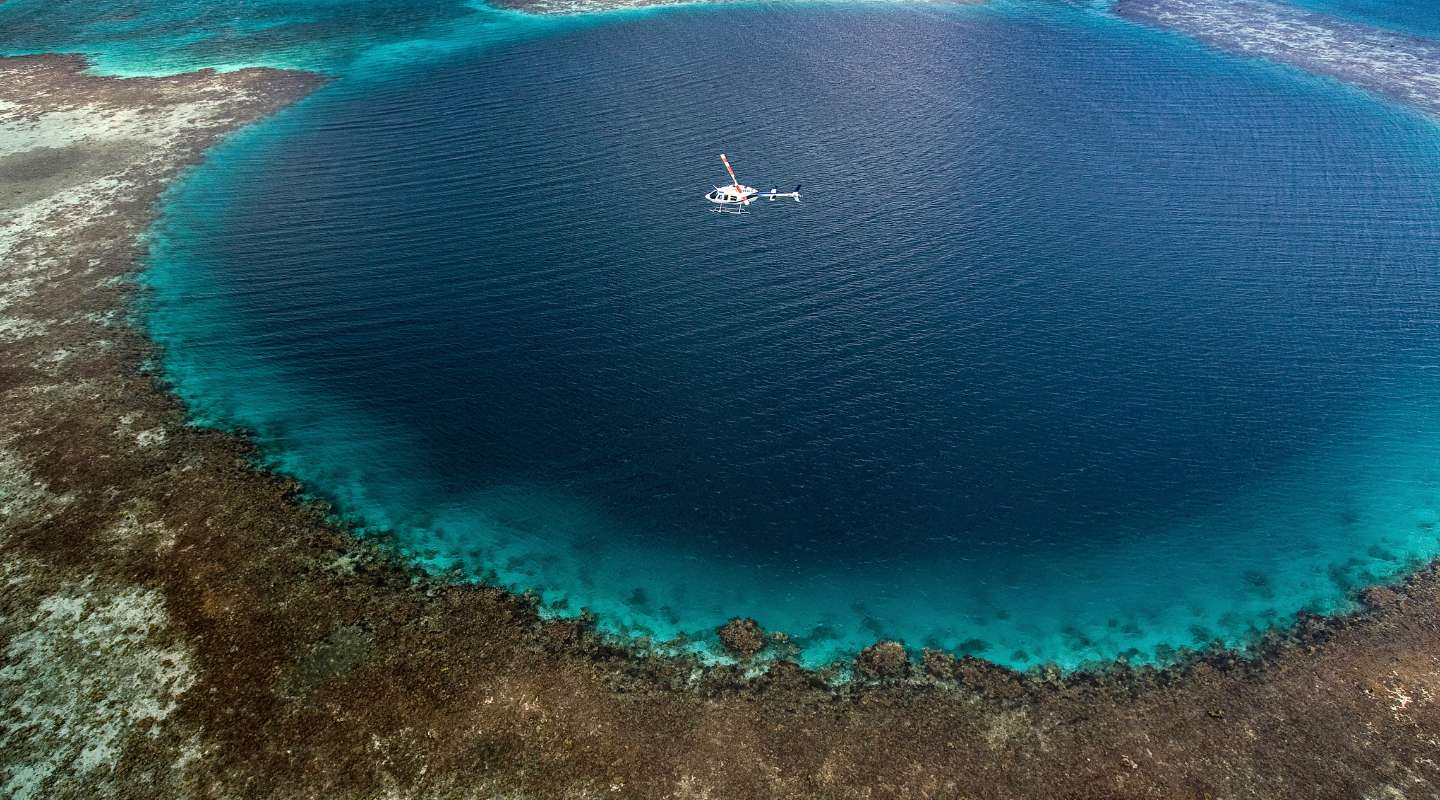 Possibly the most iconic landmark in Belize is the Blue Hole. This massive sinkhole in the ocean is 1,043 feet wide and plunges to depths of 410 feet. It's a famous scuba-diving spot, but it's even more spectacular when seen from above.
The hole is so big that it's visible from space, and although you won't be going that high up, a helicopter tour is just as mesmerizing. It's a fantastic idea to join a helicopter tour for the sake of time, as it's 43 miles from Belize City, and a boat tour can take up too much time.
Flight dates can be limited, but if it works with your cruise schedule you should check it out! Discover a few options to see the Blue Hole.
Go Ziplining Through the Jungle
Although ziplining features a few times in this post as an additional activity, it deserves its very own section. This is a popular activity to pair cave tubing with ziplining from the same area, as it gives you the chance to explore the rainforest from above and down below.
The best place in Belize for ziplining journeys is the Nohoch Che'en Archaeological Reserve. You can expect a jam-packed hour as you fly between nine ziplines, each showing off a unique perspective of the rainforest.
You'll zipline from heights of up to 190 feet and travel up to speeds of 30 mph. Although this is a high-octane activity, just about everyone can join, from toddlers of at least 3 years to senior citizens.
Visit the Bacab Eco Park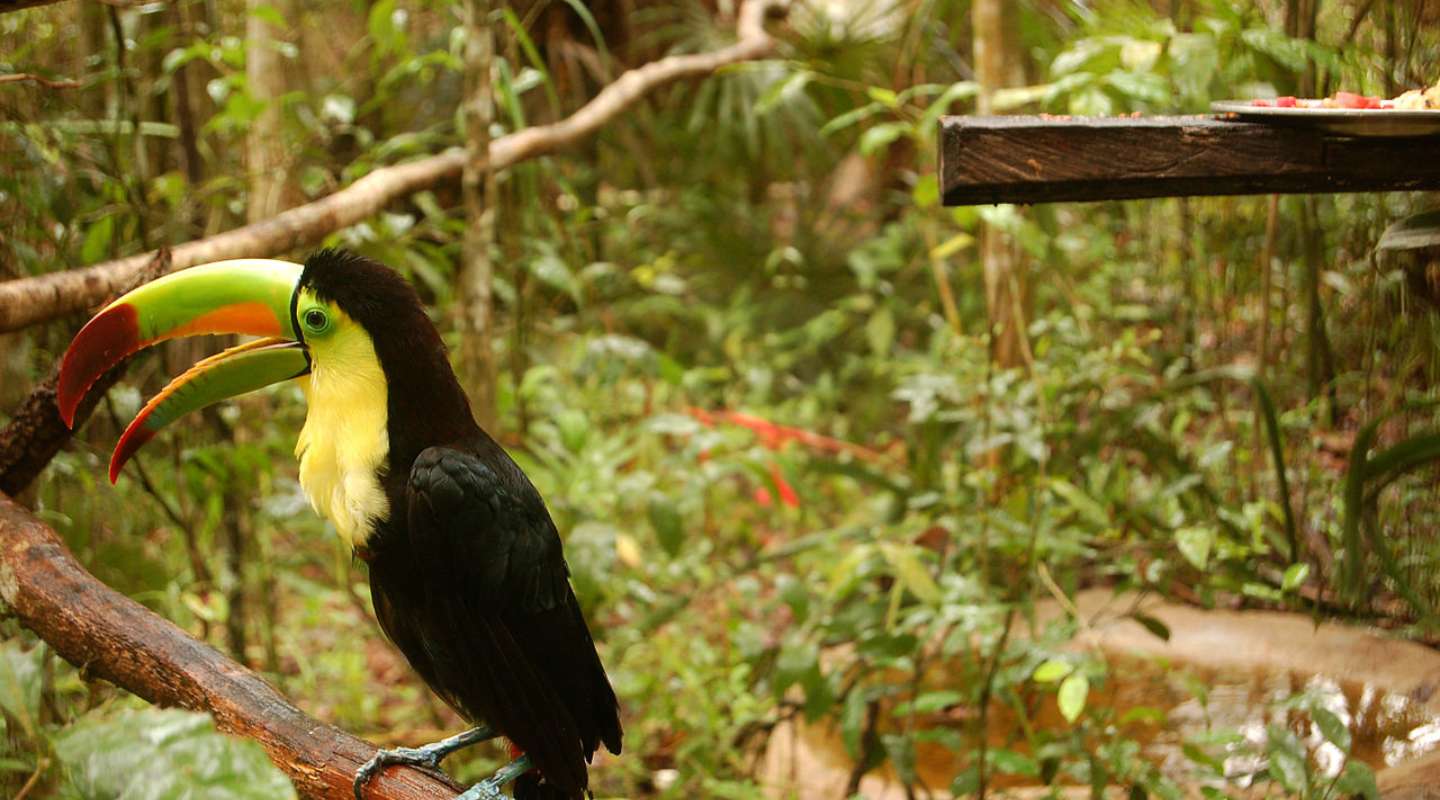 Although the Belize Zoo is a popular tourist destination, the Bacab Eco Park is a less-known way to experience wildlife near the city. The park is 14 miles from Belize City and provides the best of both worlds, a relaxing resort-like experience and many outdoor activities.
The nature trail here offers a fantastic opportunity to explore on your terms. And the medicinal path is an excellent chance to learn about the herbal plants of the forest and ancient Mayan culture before heading back to relax in the pool.
You can often see more than just birds at the bird-watching sites, as animals like howler monkeys and iguanas roam around as well. But if you want to cool down after all this exploration, the water park is the perfect place to settle down.
Summing Up the Best Things to Do in Belize City Port
If you were wondering what to do in Belize on a cruise, hopefully you no longer have to ask that question! There are plenty of fantastic things to do right from the Belize Cruise Port, from cave tubing to snorkeling with sharks, historic sightseeing and everything in-between.
Alejandra Munoz is a travel writer and photographer from Mexico with a graduate degree in Digital Media from Universidad de las Americas Puebla. An expert in presenting Latin culture and tourism to English-speaking audiences, she has written for Visita Hidalgo, Anthill Magazine and other international outlets and brands.